12 tips to close better packaging offers
Regardless of whether you're looking for the lowest price, the highest quality product, or the fastest lead times, these 12 tips will unlock the most potential from your Box Inc packaging request. 
Find out how to make more detailed requests, give suppliers better information regarding your needs, and which offer metrics you should compare.
Tips when configuring your request
Tip 1: Browse the library of carton designs
Result: Find the best carton style for your needs
Get the right box, first time. When you start your Box Inc packaging request, take a look through our library of industry specific carton styles. Even if you know which style you require, you may find a box which better suits your needs.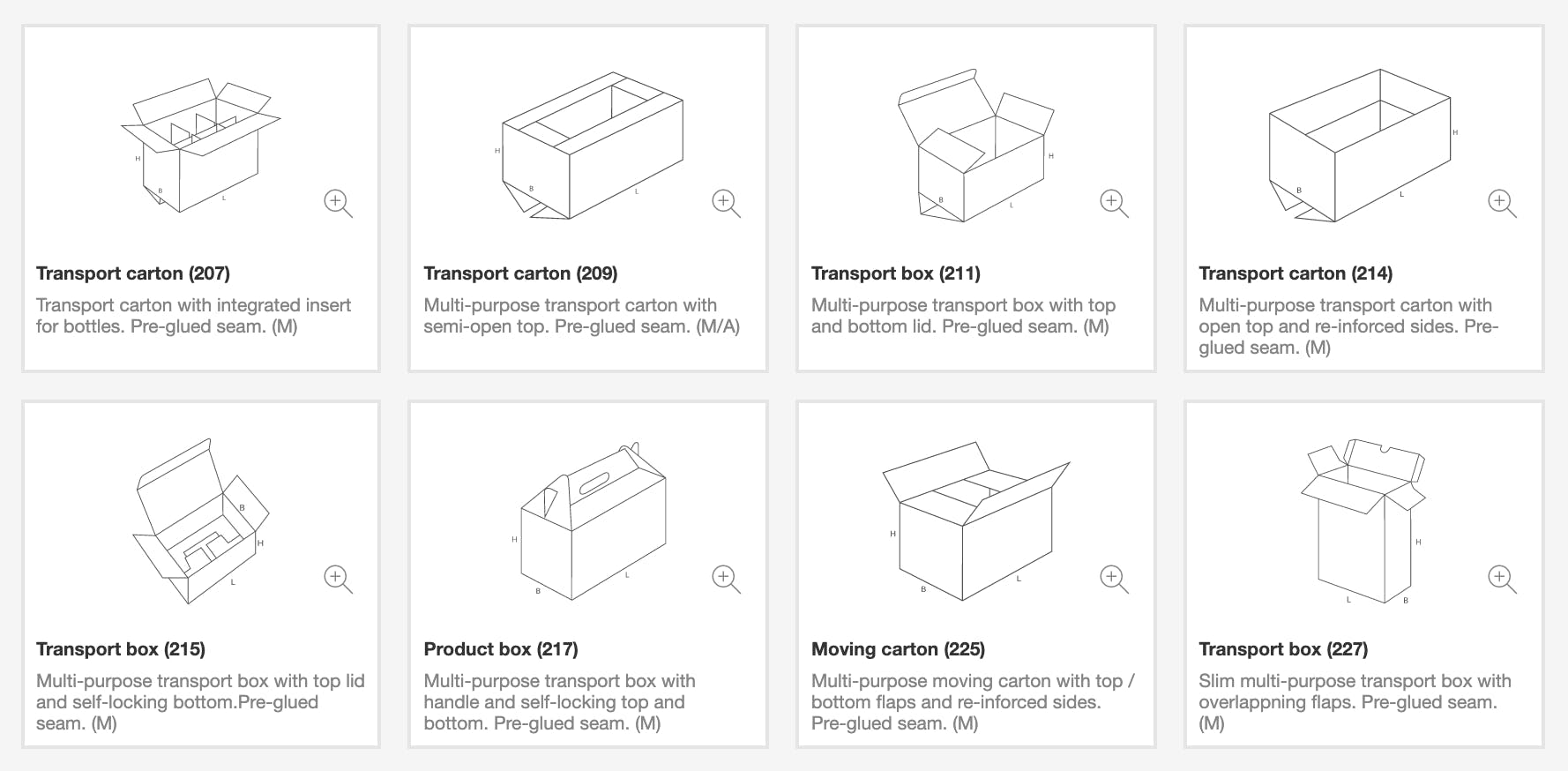 Tip 2: Increase unit volume
Result: Suppliers can offer a lower cost per unit
Most suppliers offer a lower cost per unit as the volume increases. Generally, these costs are reduced incrementally at certain quantity thresholds. To learn more about supplier pricing brackets, contact them via instant chat in your account.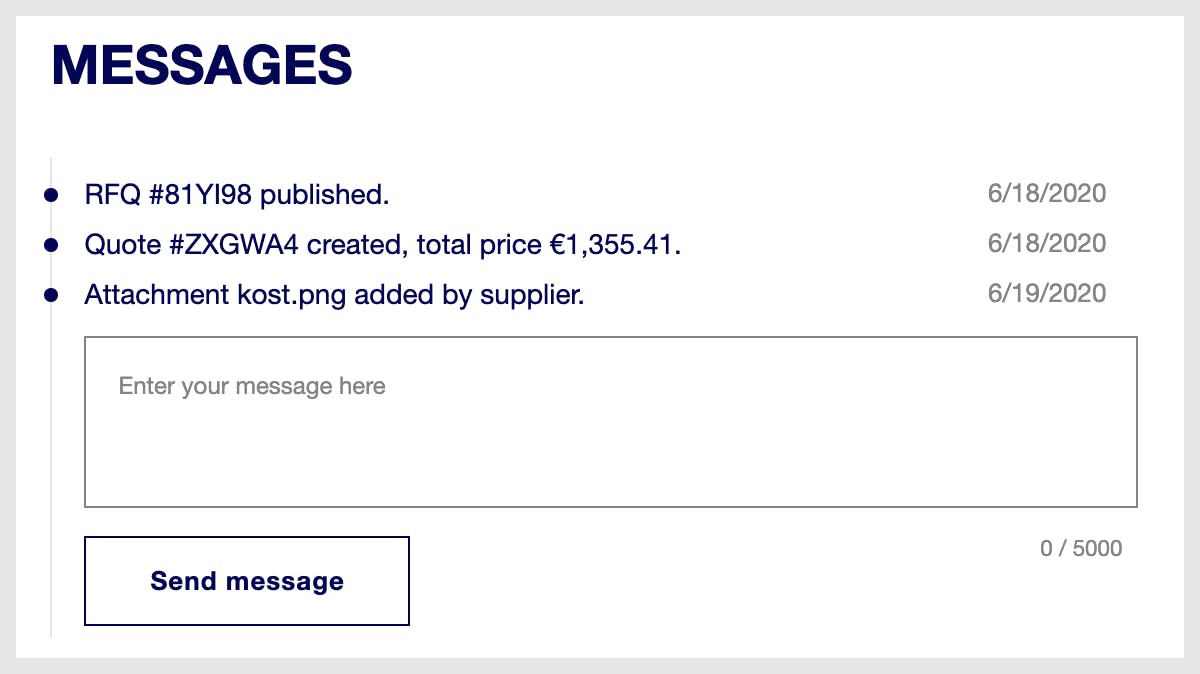 Tip 3: Specify the carton's weight to hold
Result: Suppliers quote the correct packaging quality
Input the weight of goods (in Kg) intended for your cartons. This not only allows suppliers to recommend the required cardboard quality and strength, but means you don't need to spend time learning about cardboard fluting and wall types. You can specify this in step 3 of your packaging request.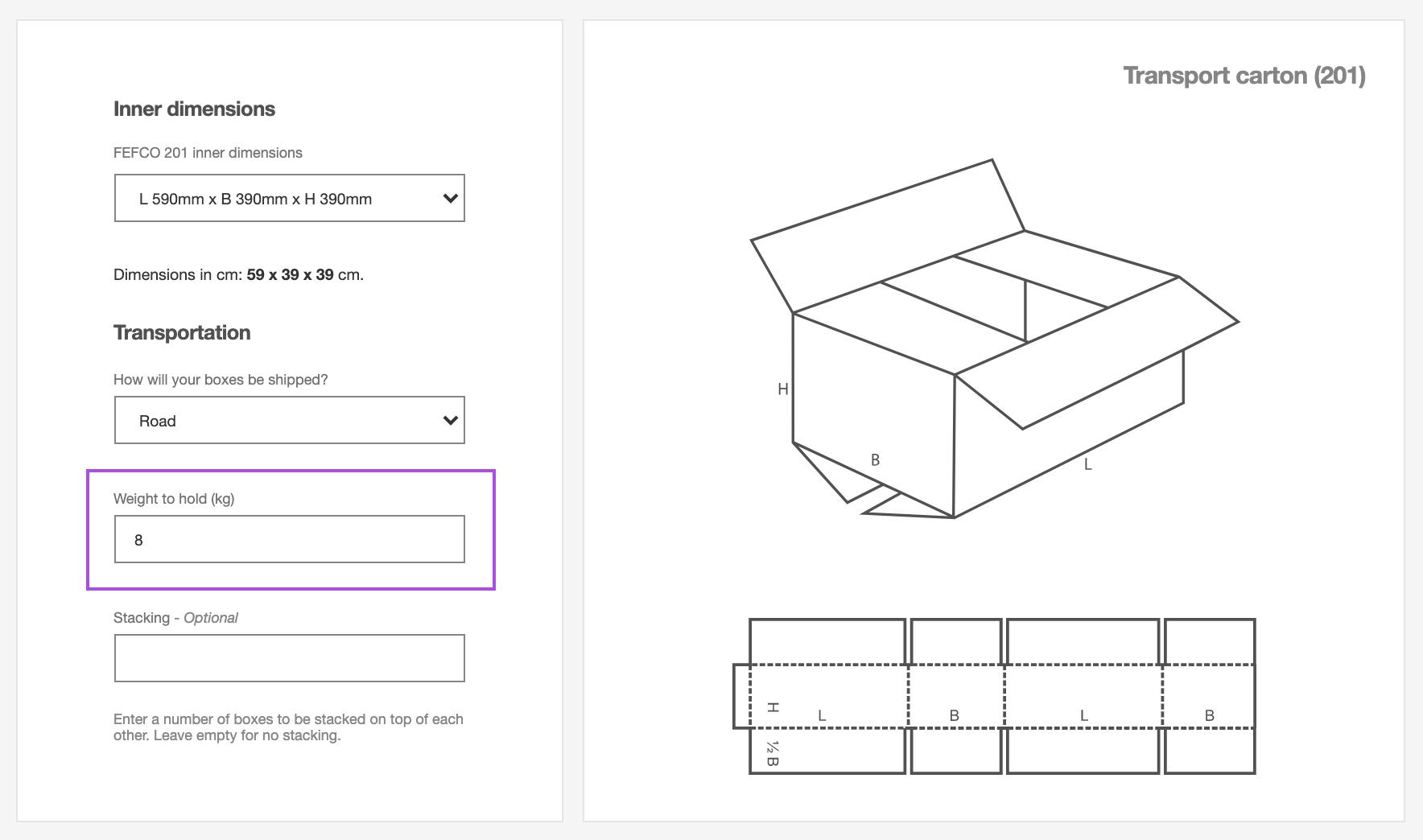 Tip 4: Specify the carton's stacking requirements
Result: Suppliers quote the correct packaging quality
Think about how your packaging is stored throughout its lifecycle - from warehouse storage to courier delivery. If your cartons will be stacked, you can add this information to step 3 of your request configuration. Suppliers will quote the recommended cardboard quality required to safely transport your goods.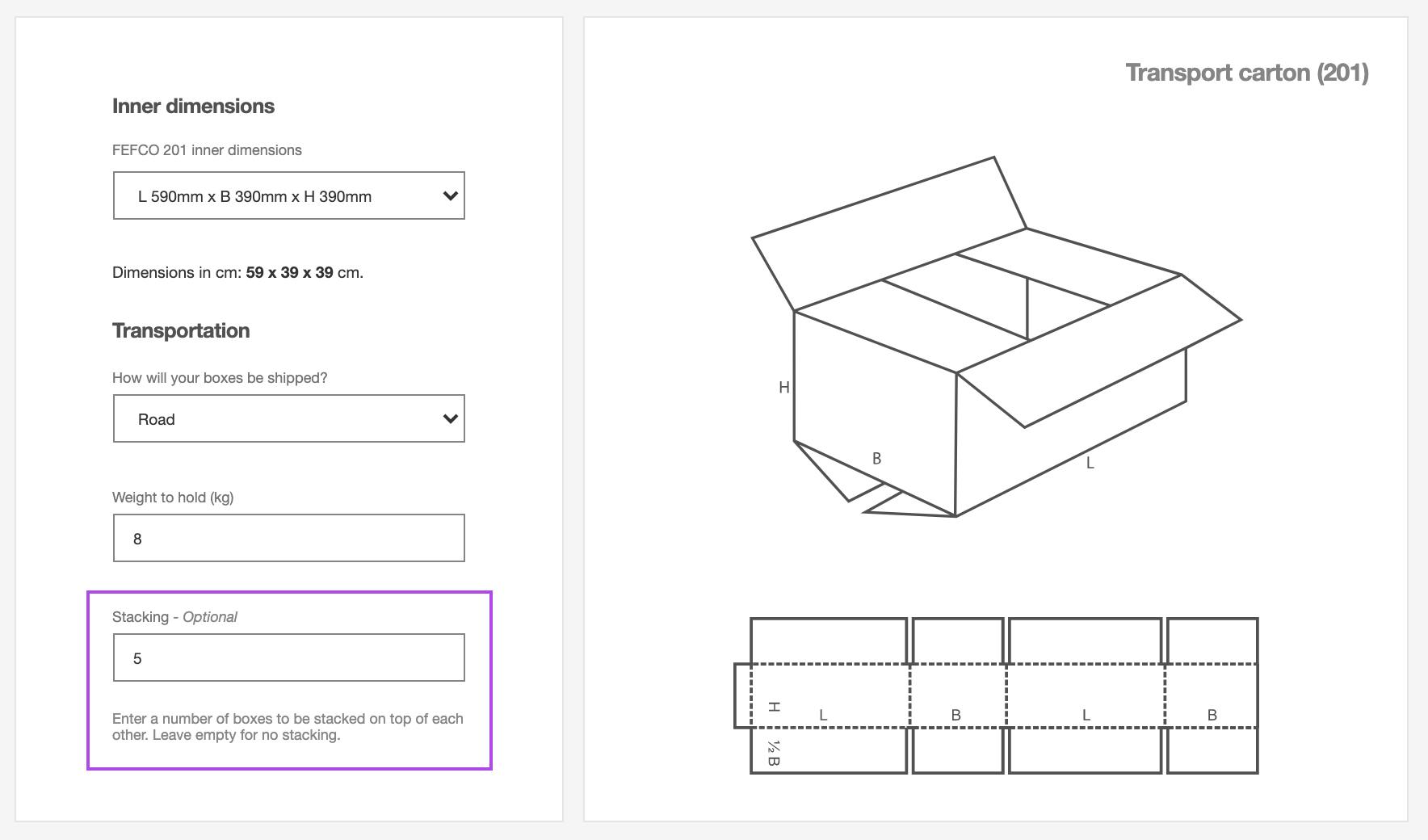 Tip 5: Request plain brown corrugated board
Result: Suppliers can offer a lower cost per unit
Corrugated packaging manufactured from plain brown board is generally cheaper to produce than white or printed cardboard. Use plain board when there is little brand value to using white board or printed elements.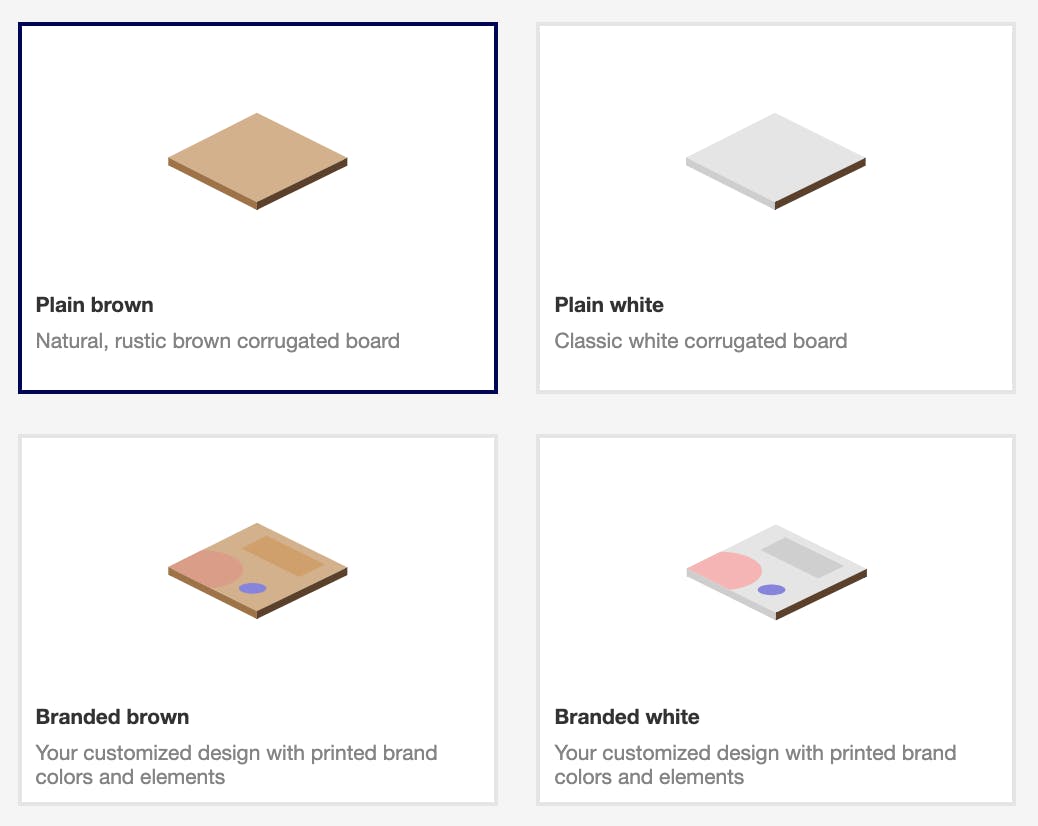 Tip 6: Add photos of your product
Result: Suppliers can recommend alternative packaging features, styles, or qualities
Product images allow suppliers to suggest alternative packaging styles to better suit your needs. This feature is ideal for inexperienced, or first time, packaging buyers. You can upload images to step 5 of your request configuration.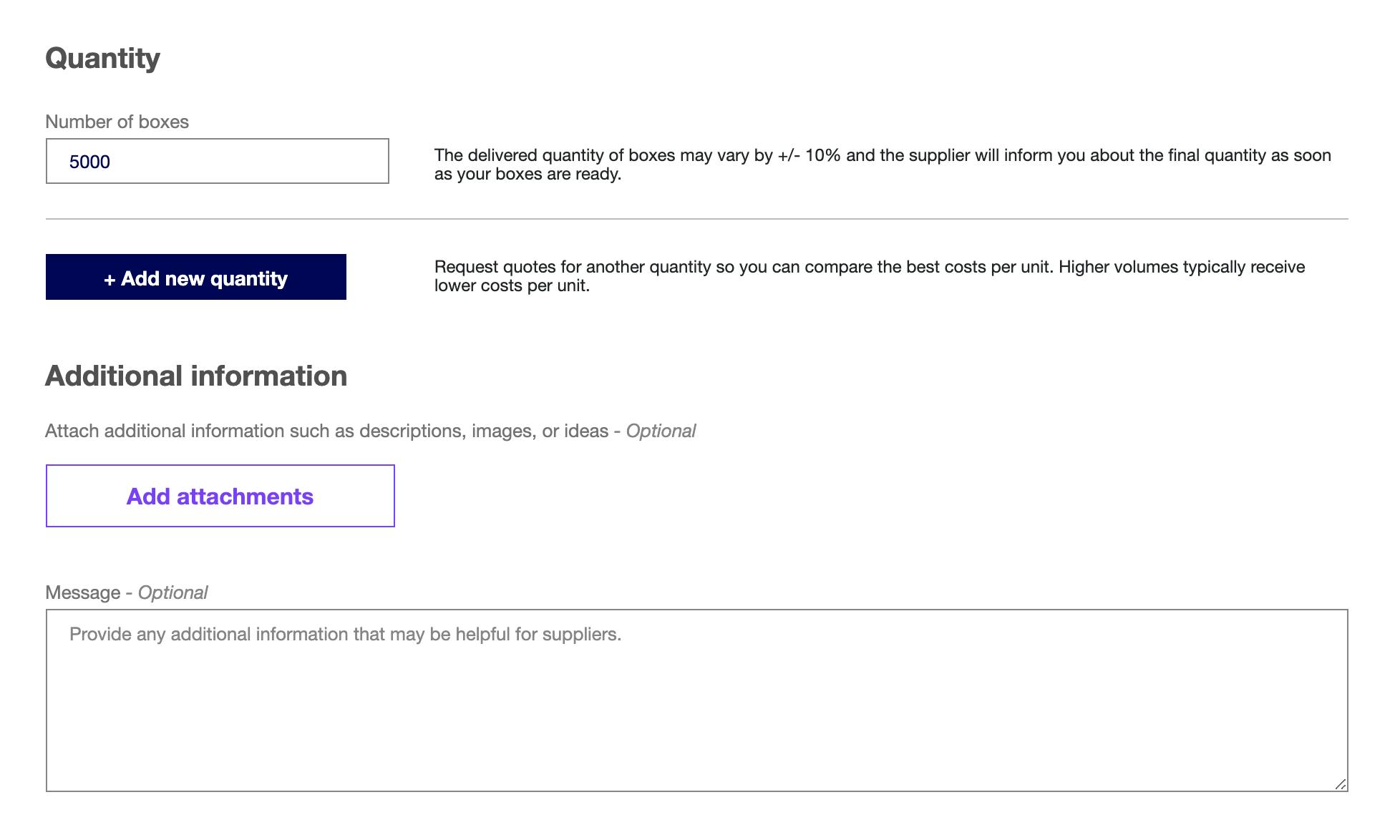 Tip 7: Specify your delivery preference
Result: Suppliers can quote accurate delivery costs and cater to your delivery requirements
The type of delivery affects pricing and depends on volume of units ordered. A full truck load of pallets offers an economical price per unit, but is dependent on the quantity ordered and your warehouse accessibility. Couriers are ideal for small orders but carry a higher cost. If  you're unsure, suppliers will discuss their delivery methods with you.
You can add delivery comments to step 5 of your request.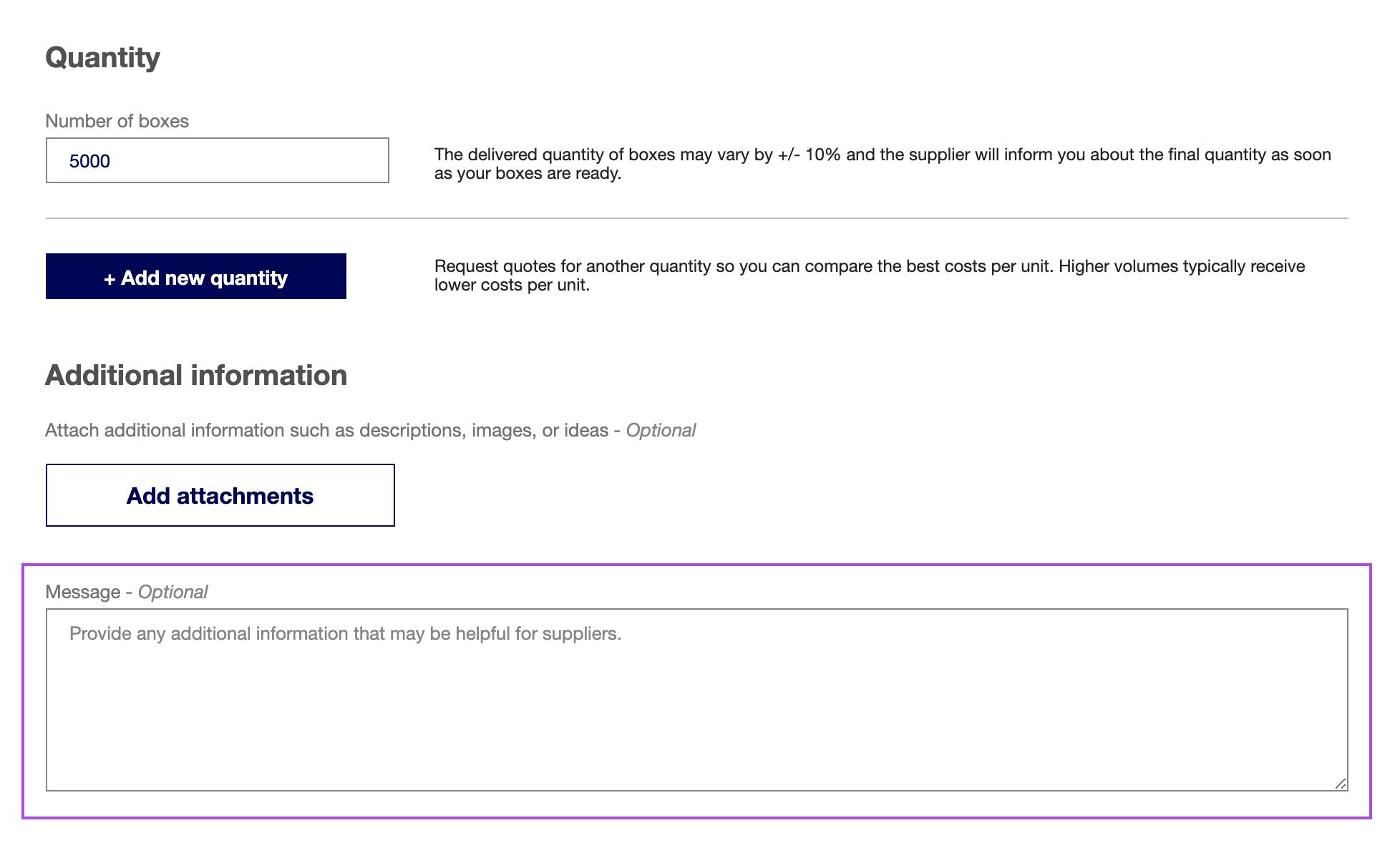 Tip 8: Liaise with suppliers via instant chat
Result: Support wherever you need it
You can liaise with any supplier who sends you a quote via instant chat in your account. Suppliers are happy to assist on any aspect of your packaging request and are here to help get the best offer for you.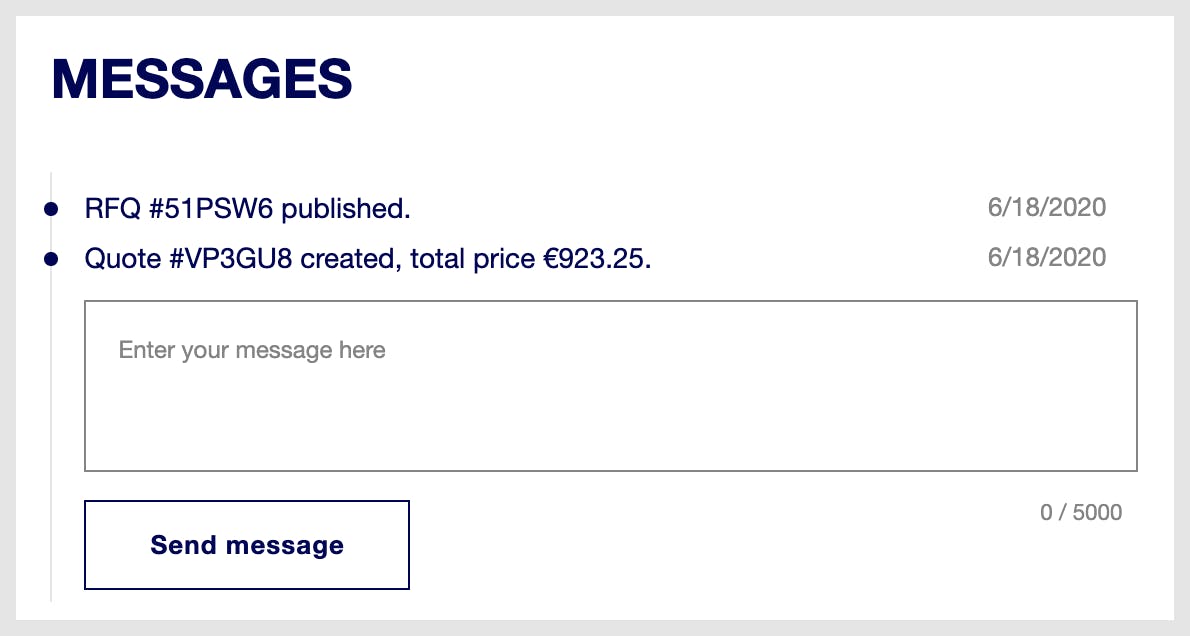 Tips when comparing quotes
Tip 9: Check cost per unit, tool pricing, and total order price
Result: Make informed pricing decisions
Each quote shows the price per unit, tool pricing, cliche pricing, and the order total. If pricing is a key factor in your packaging procurement, compare these costs, per offer, in your account dashboard. But remember, tool and cliche prices are one-time costs.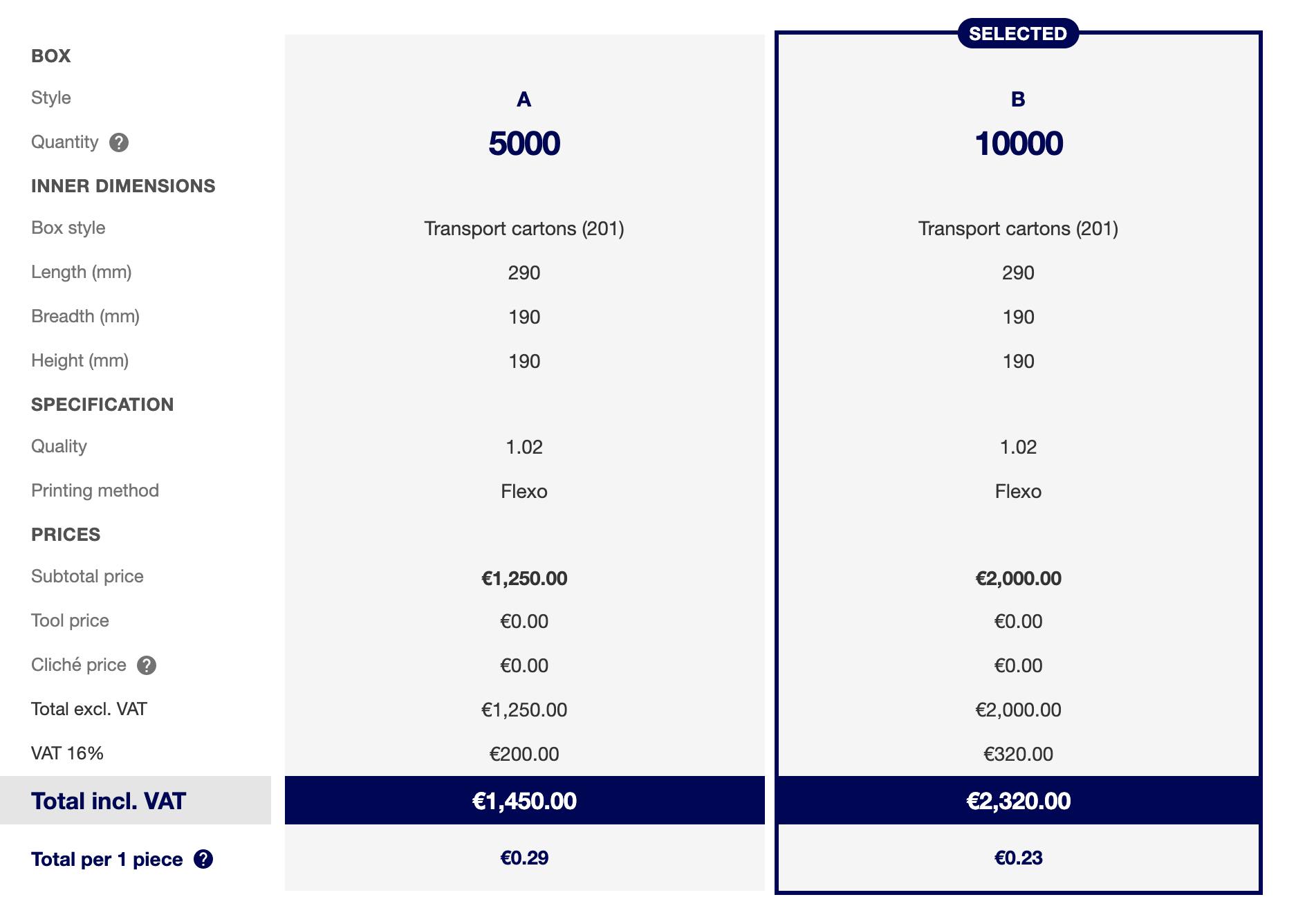 Tip 10: Check lead times
Result: Avoid unexpected packaging shortages
Compare expected delivery times, per offer, via your account. If you're in a hurry, you can contact quoting suppliers via instant chat to learn more about lead time flexibility or upgrades.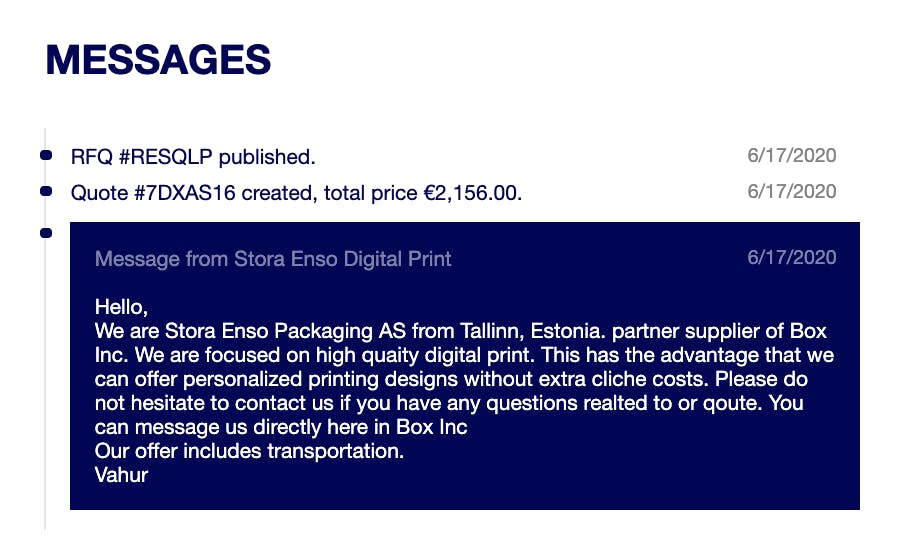 Tip 11: Request an order sample
Result: Inspect order quality and specifications
You can request an order sample from any quoting supplier. When receiving your sample, we suggest you pack your goods, seal the package, and then unbox as intended. This will give you an understanding of the carton's fit for purpose across key touchpoints.
You can communicate any required changes to suppliers via your dashboard.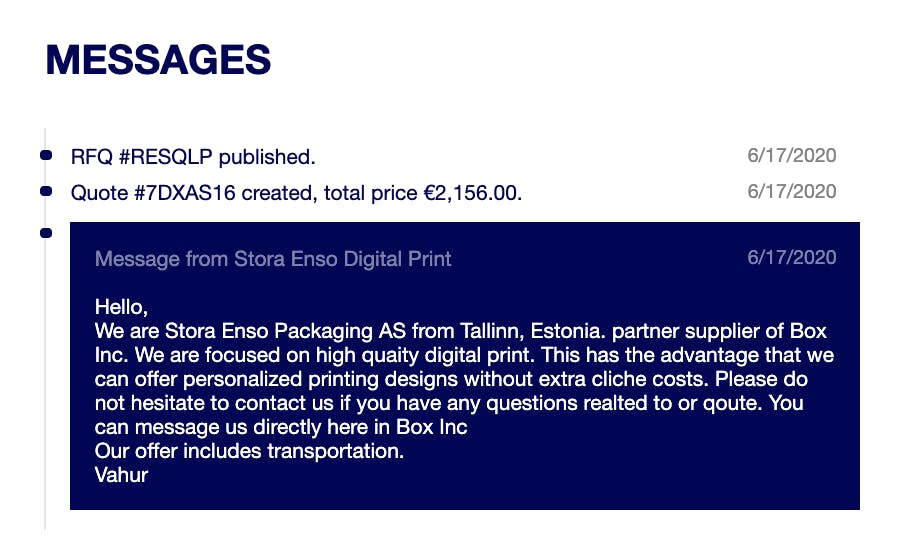 Tip 12: Compare printing methods
Result: Choose the supplier which represents your printing quality or price requirements
Each supplier will suggest their recommended printing method based on your needs. Flexographic printing is the most commonly used technique. It is most suitable for large volumes where the print quality does not have to be picture perfect. 
Offset printing is ideal for creating a premium brand experience thanks to the high quality in small to medium volumes  (up to 2000 boxes). Digital printing offers great flexibility in quality and has the advantage of being cost efficient for small volumes as there is no cost for production tools or cliches.
For alternative printing options or pricing, simply contact suppliers via your dashboard at any time.